FCR Newsletter Forward June 2021
Happy June, FCR Team! This month we are celebrating Families and, in particular, the work we do to strengthen Parent-Child relationships through the two-generational approach. In addition, we are spotlighting one of our FCR Educational staff and her commitment to this multigenerational work with teachers, parents, and the children. And in celebration of Father's Day this month, our Fatherhood Initiative Coordinator will share highlights in this issue.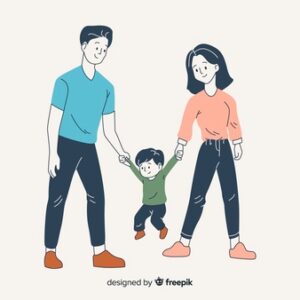 As we are aware, FCR supports parents and caregivers by using a two-generational approach to ensure that the families we serve experience a sense of community. Since the beginning, Head Start has and continues to embrace the idea of building authentic community partnerships to address parents' and children's needs in concert to achieve desired outcomes. In addition, we understand that parents' growth is essential to the child's social-emotional and physical development. Therefore, we believe that the growth and development of both the parent and child can interrupt the cycle of poverty, promote early education, build social capital, and promote health and well-being.
To support our approach, the Head Start Program Performance Standards (HSPPS) notes, "innovative two-generation approaches that address prevalent needs of families across their program that may leverage community partnerships or other funding sources." Hence our continued commitment to building community partnerships that support the needs of the children and families enrolled in our program.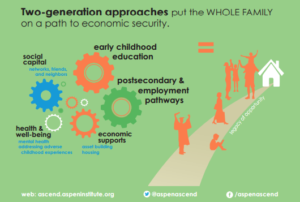 In recent months we have been engaged in discussion around Adverse Childhood Experiences (ACEs), trauma-informed work, and their impact. As we embrace strengthening our trauma-informed community, we support Dr. James A. Mercy's thought that we can prevent ACEs by creating stable, safe, and nurturing environments. Which are essential building blocks of Early Childhood work and components that need to be present in the two-generational work. Thus, we believe that two-generational work aids in providing protective factors to our children and parents and supports the work we do to foster resiliency.